Drivers, Dispatchers Needed
VOLUNTEER WITH WECAB
Maple Plain, Minnetrista, Mound, Navarre, St. Bonifacius, Spring Park, Carver, Chanhassen, Chaska, Victoria
What We Do…
WeCab is a network of volunteers who provide transportation to essential services, such as…
Medical appointments
Shopping at local businesses
Worship services
Community services
Errands
Access to metro transit
Demand is growing; see how you can help fill this need!
 Dispatchers: You want to help, but prefer not to drive.  Dispatching is for you! This can be done from anywhere. Phone lines are open 9AM- 1 PM.  M-F.  You are not tethered to your phone; messages can go to voice mail.  We use a phone app so that your number stays private. During training, you will learn how to enter rider information into our scheduling program.  This is where drivers can choose the rides they want to accept.  Dispatching is answering and scheduling rides.  Dispatching is one day per week currently, with more of us…maybe once a month.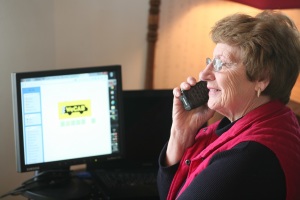 Drivers:  Like to meet people? This is the volunteer opportunity for you!  A driver orientation can be scheduled at your convenience.  Flexibility is key; drive whenever it fits your schedule.  You would have access to our computer program to view available rides and accept the ones you want.
Rider Registrars:  We are looking for people to "shadow" our current registrar to be fill-ins for vacations and other absences.  This involves an in-home visitation with potential riders.  Paperwork is filled out and policies on how to use our program are defined.  We are averaging 5 new registrations per month.
HOW TO VOLUNTEER, go to www.wecab.org Volunteers and print out an application. Mail it to WeCAB, 5341 Maywood Rd, Mound MN 55364
Driver, SH: "My favorites are taking clients to the Food Shelf and also taking the elderly women to their weekly hair appointments.  I remember when my grandparents stopped driving, and my ability to give back fills me with joy! "
Rider, SM: "I could not have gotten to my physical therapy appointments without WeCAB!!!