On June 22, 2015 WeCAB honored its network of volunteers with a dinner at, and contributed by, Lake Minnetonka Shores, Presbyterian Homes. WeCAB is a supplemental program that serves Mound Westonka and Carver County. Volunteers are the backbone of the WeCAB organization. The Volunteer "Thank You" dinner is one way WeCAB can thank all of its volunteers for the tremendous service they provide to the entire WeCAB organization.
This year's "Driver of the Year" award was presented by Board President, Pastor Mike Michalk, to Flossie Finnicum.  Flossie has been a driver since the WeCAB program began in the Mound Westonka area in the fall of 2011.  In the past year (June 1, 2014 – June 1, 2015) Flossie has:
Provided 137 1-way rides
Contributed 106 volunteer hours
Driven 1,583 Miles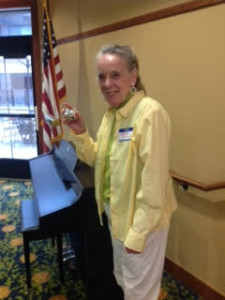 Since 2011, Flossie has driven over 5,200 miles serving people who otherwise might not have been able to get to appointments and enjoy social/volunteer activities.  WeCAB's Board of Directors thanks Presbyterian Homes and all of the WeCAB volunteers for their continued support of the award winning WeCAB program.